The three-block development at Canary Wharf could become Europe's largest Passivhaus scheme.
The project is targeting the BREEAM Outstanding standard whilst also focusing on sustainable transport too (which we think is pretty amazing). This is an incredibly positive step for construction companies across the globe and we really hope that this inspires construction companies across the world to take similar steps such as Canary Wharf to create incredible environmentally friendly builds.
Tower Hamlets council has given Apt the green light for a huge tower scheme near Canary Wharf.
So, why are Apt building this new scheme? Apt Project Leader, James Ewen said: 'Our vision for 2 Trafalgar Way was to create a vertical campus, where living, studying and working successfully co-exist, serving an enriching environment which will extend into the ground-floor public realm and beyond.'
The project will be built on a vacant 0.4ha site in Trafalgar Way and will consist of three towers of 28, 36 and 48 storeys rising from a four-storey podium. This will provide 1,700 student accommodation units, 80 apartments for University College London Staff and more than 1,300 retail spaces including a Mcdonald's drive-through. On the healthier side, it also will provide 1,500 cycle spaces across the site and direct connections to the local cycling network too! Sounds pretty neat if you ask us. When can we move in?
The project brief of the development was to target a Breeam Outstanding rating and become a "global leader" in terms of sustainability.
As the project targets the BREEAM Outstanding Standards and includes sustainable transport, the Canary Wharf is set to become the largest Passivhaus in Europe and a sustainable global leader. A very big deal.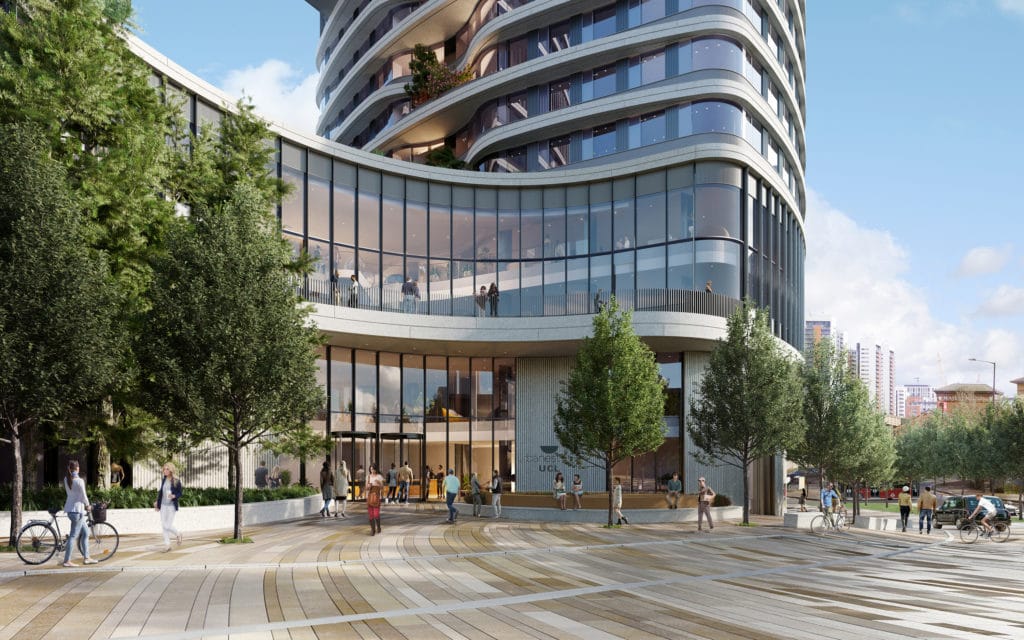 The BREEAM has a big reputation under its belt. The Building Research Establishment Environmental Assessment Method is the world's longest established method of assessing, rating and certifying the sustainability of building. Accreditation is determined on areas of the developments such as energy, transport, health and wellbeing, pollution and much more. The more credits you get, the better!
The scheme is very important for the construction industry as it strives to minimise the negative impact that buildings have on the local and global environment. As the industry starts to become more sustainable, the BREEAM scheme can help guide developers towards the environmentally friendlier path.
Overall, we don't know the full ins and outs of the Canary Wharf's sustainable features and how many credits they will score within the BREEAM scheme, but what we do know is that it has the potential to be seriously impressive and we can't wait to see the results.
What is Passivhaus?
Passivhaus is the inspiration for those working in the design and construction industry. The Passivhaus (Passive House) standard is the midpoint of energy and sustainability consultants and is the perfect combination of quality, energy efficiency and comfort. A Passivhaus is designed to consume up to 90% less heating and cooling energy than conventional buildings, helping to keep its occupants warm all winter and cool throughout summer!
RELATED: 5 EXAMPLES OF SUSTAINABLE CONSTRUCTION
Can Buildpass help me achieve Passivhaus status?
Absolutely! Buildpass is here to guide you towards your sustainability goals; including the Passivhaus status. If you want to find out more about our services, book in for a call today!
Images Copyright AsymmetricA / Apt.
More from the Buildpass Sustainable Construction Blog