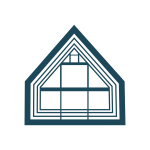 What is Passivhaus
Key principles of Passivhaus
Energy Balance is the key principle of the Passivhaus methodology. The aim is to balance heat loss with heat gain so heating requirements are low enough that traditional heating and cooling systems can be omitted.
Heating loads 10w/m2
Space heating energy demands 15kWh/m2 per annum.
U-Values must be below 0.15
Thermal bridge free
Airtightness at 0.6
Windows with a u-value of 0.8 or less
MVHR with heat recovery greater than 75%
How is Passivhaus Certified?
Passivhaus buildings are assessed using the Passivhaus Planning Package (PHPP) and looks at a number of key design principles including building form factor, insulation, windows, infiltration and ventilation.
The designers role it to continue to support the build during the construction stage to ensure things like insulation and air tightness barriers are installed correctly.
The last stage is the air tightness test, which is undertaken at end of the project to ensure the building fabric meets the requirements. Once this has been confirmed the building can apply for certification and proudly fix the Certified Passivhaus plaque to the building.
How can we help?
As certified passivhaus designers we can help achieve your passivhaus dreams from design conception right through to completion. We will model your design through the Passivhaus Planning Package, guide you through the results and recommend areas for improvements. We work with your right the way from construction with site visits at regular and key intervals to make sure the build is on target to meet the require standards. We will completed as build testing and put the assessment through for accreditation.
What next?
If you're considering designing to Passivhaus standards please call us now and we can discuss the option with you and check it is right for your project.
Book your free Consultation