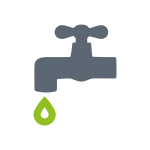 What are water usage calculations?
Water calculations is a critical section of the Building Regulation Part G which .contains guidance on water safety, water efficiency and hygiene. The regulations state that the water efficiency of new dwellings should be no more than 125 litres per person per day.
How is water efficiency calculated?
We use a special calculator which uses the methodology details in the Part G regulation documentation. We enter all
There are a number of free tools online where you can complete them yourselves for example http://www.thewatercalculator.org.uk. However we find that a lot of our clients like to use us for the calculations to save time and benefit from our experience to achieve the targets.
Within the calculations toilets we enter details about your sanitaryware and any water savings measure you may have in place such as rain or grey water harvesting.
Recommended flow rates for 125 litres per person per day:

WC 6/4 litres dual flush or 4.5 litres single flush
Shower 10 l/min
Bath 185 litres
Basin taps 6 l/min
Sink taps 8 l/min
Dishwasher 1.25 l/place setting
Washing machine 8.17 l/kilogra
When are they required?
In theory the are required for every new build dwellings, however we have found the Building Control do not always ask for them. We recommend that you undertake them at an early stage whether requested or not as it provides greatest flexibility when choosing sanitaryware.
Sometimes the targets are lower than this and will often be detailed within the planning consent conditions. The regulations allow for targets to be set us low as 110 litres per person per day and BREEAM and RIBA targets can be even lower.
What else you might want to know…
We can help out with advice on lowering your flow rates, we can also help you reach your BREEAM and RIBA 2030 targets. Contact us today for help on your project.
Book your free Consultation