When it comes to building a more sustainable community, the time has truly come for everyone to play their part. The latest topic on the agenda? Embodied carbon.
The industry is working hard to deliver more energy efficient buildings; there's no denying it. And it really is music to our ears.
We've already seen a successful rise in the reduction of operational energy (and, as a result, carbon emissions) in the built environment… but that's only one side of the coin.
The next challenge to tackle is the carbon intensity of the building structures themselves.
One way to do that, is to start looking at embodied carbon.
Embodied carbon is the carbon footprint of a given material.
Essentially, it looks at the level of greenhouse gases being released throughout the supply chain of the material, and how this is contributing to overall emissions from the construction sector.
The measurement for embodied carbon runs throughout the entire life-cycle of the material and the building it is moved into; it's a "cradle" to "grave" system.
But, from the word go, the ramifications of embodied carbon cannot be reversed. Once the embodied energy has been released, the time for improvement has run a mile.
It is therefore crucial that we explore ways to minimise embodied carbon and prioritise the assessments needed to judge it.

There are a few typical things you can expect from an embodied energy and carbon assessment.
First of all, if you want to lock down your embodied carbon reductions, your consideration and assessment stage needs to start as early as possible during the planning and design phases.


This may look like:
Streamlining your embodied carbon assessment for planning statements
Running an assessment on products
Delivering embodied energy reduction advice through the design
Implementing a detailed assessment of whole buildings and construction assets
Hosting or attending workshops and seminars related to embodied carbon training
Bringing in a peer review
It's likely you will want to involve architects, energy consultants, structural engineers and quantity surveyors in your initial discussions about embodied carbon.
You can then enlist one individual to hold responsibility for embodied carbon throughout the life cycle.
There is the potential to reduce your embodied carbon by up to 20% without even increasing your costs.
Some points to keep in mind include:
Renovation and reuse developments typically save between 50 and 75 percent of the embodied carbon emissions compared to the construction of an entirely new building
Be mindful when using carbon-intensive materials, for example aluminium, plastics and foam insulation
Consider high-recycled content materials; especially with metals
Minimise all waste
Opt for lower carbon alternatives, such as wood structures over steel and concrete
The official guidance for lowering embodied carbon is extensive – but even small changes can make a huge impact. The UK Green Building Council offers a brilliant guide on the full spectrum of these assessments and how to tailor them into a client brief.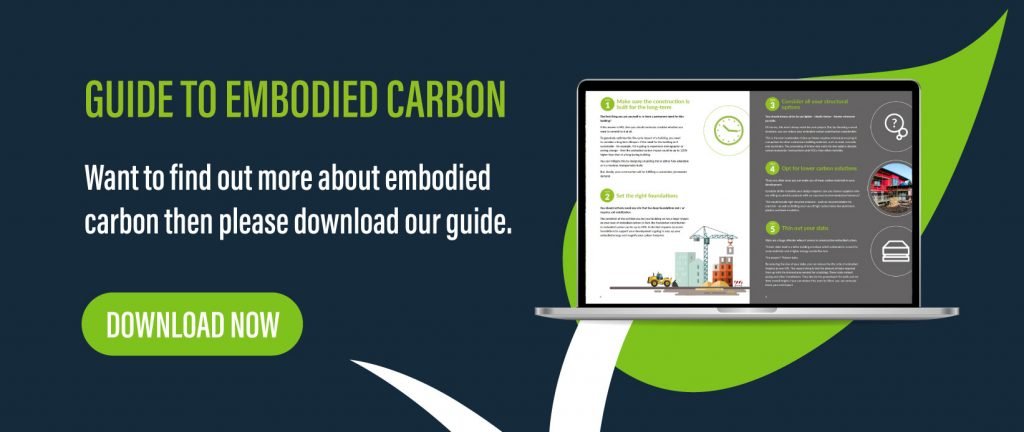 The vision? A built environment that is fully decarbonised.
The question isn't when we can, together, make this a reality. It's how.
The time to implement is now. And we are 100% behind it.

Need help demystifying the embodied carbon process? Drop us a line. We offer no obligation meetings to find out more about you and your needs.
More from the Buildpass Sustainable Construction Blog