Degree days are a type of weather data that models the difference between internal and external temperature and at a time element to help us understand energy consumption. Here we dig deeper into what are degree days and how we use them.
Now that the kids are starting to go back to school, we can start welcoming a sense of (albeit, different) normality into our lives. For some of us, that will mean some much needed breathing space.
We don't know about you, but all of us here at Buildpass have spent the past few months sticking a pin in certain 'life admin' tasks. You know the type; the things you were really excited to explore, but never got around to it.
For those looking to 'go green' and reduce their carbon footprint, now could be the perfect time to dive back into the process. One way you could do so is through degree days. We use degree days here at Buildpass to help show clients how their building performs and how energy efficiency measures impact on the annual heating demand of their property.
What are degree days? Degree days are a specialist method of calculating weather data through the recording of outdoor temperature readings. Degree days enable you to track energy usage; while here in the UK, we are more concerned about the heating season, we can equally use it for summer cooling.
Essentially, degree days measure the difference between the external temperature and a base temperature. The 'base temperature' is the level of external temperature which requires additional heating or cooling to maintain a comfortable temperature and environment. The greater the difference, the quicker heat will be lost from your building and the more days that heating is required the greater the annual energy demand.
What are the different types of degree day?
We are concerned about two main types of degree day. These are:
Heating degree days
Cooling degree days
A heating degree day measures how much (degrees) and for how long (days) the outside temperature sits below a certain level.
In the UK, the most readily available heating degree days come with a base temperature of 15.5°C; this is to stay that any temperature below this will require heating.
"But hold on, I have my heating set at 19oC, why is the base temperature so low?"
The heating does not need to provide all the heating in the homes: people and equipment in the building also contribute to heat. Think of Christmas Day when the temperature outside is very cold, but yet we have to open the windows; this is because of the extra heat from cooking the turkey and the large number of house guests.
These other sources contribute to an "average internal heat gain". This is typically worth around 3.5°C.
Simply put if the outside temperature was 2 degrees below the base temperature for 2 days, there would be a total of 4 heating degree days over that period (2 degrees * 2 days = 4 degree days).
A cooling degree day, unsurprisingly, looks at the opposite – how long it rests above a certain level.
How do we use degree days?
Most commonly, we use degree days to calculate the energy consumption required to heat a building. Since weather is, arguably, one of the most influential factors when it comes to energy use in buildings, they are a valuable way to track energy consumption and craft plans accordingly. They are an important part of energy analysis.
Here is what the typical energy usage against a heating degree day might look like: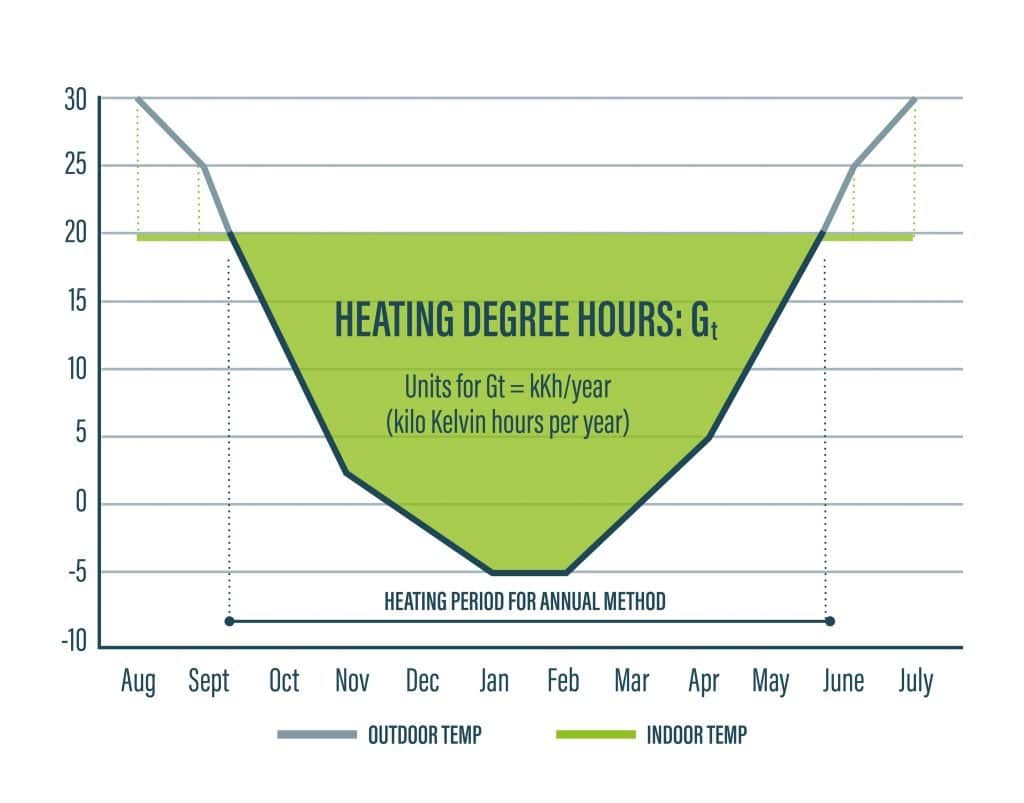 Degree day data is very easy to get hold of and simple to work with. They will typically come as weekly or monthly figures and you can piece them together to track energy usage over a longer period: this is a popular method for those looking at quarterly or annual energy-consumption figures.
Without degree days, tracking the energy used over two different periods would be far trickier and would run the risk of lacking an important component. For example, if we compare heating bills from two separate years we may wrongly assume that the money spent on upgrading to double glazing was wasted as our energy bills have not reduced. However, if we use degree days we can see that the second year was a particularly cold year and so the heating was running for longer.
Can Buildpass help navigate degree days?
Absolutely – as energy consultants, we regularly use degree days to help predict and report on the energy consumption of a building. Get in touch with a member of our friendly team to find out more.