Complete guide to sustainable construction for 2021 and beyond
The construction industry has a huge impact on the environment ranging from energy usage to emissions. More and more construction agents are changing their old habits for new, eco-friendly strategies, while businesses are adapting and making the essential switch to sustainable construction.
Sustainable construction is the practice of using renewable energy and building materials when creating new structures to help reduce energy consumption and waste. It looks at fighting against climate change plus reducing the industry's impact on the environment.
It's super important to keep up to date with changes to sustainable construction as the requirements for sustainable construction change regularly due to government policy as well as improved methods, new technologies and materials becoming available. Don't fret, we will cover the latest changes to sustainable construction in the blog to keep you up to date!
The 7 principles of sustainable construction
The 7 principles of sustainable construction help the industry understand where we, as contributors to the UK carbon emissions, so that we can work towards creating greener building developments and reduce the construction industries overall carbon footprint.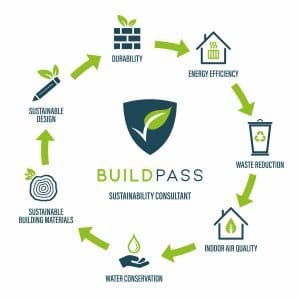 The principles cover areas such as:
sustainable design
durability
energy efficiency
waste reduction
indoor air quality
water conservation
sustainable building materials
These are the different elements that need to be considered when designing and creating a sustainable construction. At Buildpass, helping you to become as eco-friendly as possible is our goal and we can provide you with services that will allow you to succeed in each principle and lead you to create your ideal sustainable development. But, before we come onto that, we need to understand why sustainable construction is so important, especially in 2021.
Why is sustainable construction important?
Did you know that the construction industry accounts for 45% of total UK carbon emissions? Crazy, right? With high impact coming from our industry, it is our duty to become aware of the sustainable movements and take our own initiative to create the needed change.
Sustainable movements have become more prevalent in the UK due to the Climate Change Act (2013). As the UK works towards reducing 50% of greenhouse gas emissions in the built environment by 2025, it's our duty to make a difference and set new, eco-friendly standards within construction.
In addition, it's also no surprise that there's a rise in customers searching for sustainable constructed houses. More and more people are thinking about ways to be friendly to the environment and reduce the effect they have, which of course includes their home and the way it works.
Also, sustainably constructed houses are extremely efficient in helping to keep the home warmer in the winter and colder in summer, resulting in better comfort levels. Overall, there's millions of reasons as to why sustainable construction is so important. As the public and organisations across the globe become more conscious of their impact, we need to adapt and meet the needs of our customers and the planet.
Reducing Carbon emissions from buildings
According to the World Green Building Council, building and construction are responsible for 39% of all carbon emissions in the world. On top of that, operational emissions (from energy used to heat, cool and light buildings) accounts for 28%. And it doesn't stop there. The remaining 11% comes from embodied carbon emissions that are associated with materials and construction processes throughout the whole building lifecycle.
As the UK begins to work towards their Net Zero 2050 targets and Climate Change Act (2013), reducing carbon emissions from building has never been so important. There's multiple ways to reduce carbon emissions such as changing the insulation fabrics used, fitting in double/triple glazing and taking sustainability into consideration from the get go. For example, fitting your hot water cylinder with an insulation jacket will save you £18 a year in energy costs and 110kg of carbon dioxide!
From the planning stage to testing, here at Buildpass, we are able to help you find new ways to reduce your carbon emissions and make your sustainable goals a reality.
Benefits of sustainable construction
There are numerous benefits to sustainable construction and it would be impossible to talk about every single one in this blog, but these are a few of the main reasons as to why sustainable construction will benefit your next development.
Environmentally Friendly
As you can probably guess by now, sustainable construction is eco-friendly and a massive contribution as to why many members of the public are choosing green buildings. Recycled materials help to protect the environment and to reduce waste. The use of well-insulated windows, ceilings and walls ensure that no energy is going waste as well as the methods such as using solar heaters helps to make buildings more energy efficient and less harmful to the planet.
Cost Reduction
Using sustainable materials and methods will save you significant money on energy and water bills. On top of that, green buildings also have great ROI as the value of the property increases with sustainability.
Improved Health
Green buildings are beneficial to our health too. According to the Environmental Protection Agency, outdoor air is two to five times less polluted than indoor air. The use of sustainable materials can help with the purification of the air and lessen the release of chemicals in the home.
See? I bet you're now feeling ready and raring to get started on your next sustainable development, but wait… There's more you need to know!
Sustainable construction methods in 2021 and beyond
Sustainable materials are a super important aspect when it comes to building construction, but the methods used can help save construction workers time and clients money. The industry is now realising the value of green building methods. New advances in materials, technology and practice allows companies to use environmentally friendly processes that lead to better efficiency. Here are some of the new methods being used in the industry today:
IoT Integrated Automated Building Systems
IoT sensors can automatically adjust the required ventilation and lighting levels inside a building based on the temperature, weather and CO2 readings, helping to improve operations.
Structural 3D Printing
Creating and moving building materials to the site can have high environmental costs. Structure 3D printing helps to cut down on shipping costs and reduce the weight of components.
Grid Hybrid Systems
Hybrid systems were created to store excess energy and allow the renewable source to function at night, during overcast days and in other conditions that are not ideal.
Sustainable construction materials in 2021 and beyond
In 2020, a survey was conducted to find the most popular sustainable materials from the year. Materials such as synthetic slate roof tiles, energy saving windows and rammed earth building were in the top three, followed by cedar, ashcrete and sheep's wool.
In 2021 and beyond, we are now expecting to see a rise in materials such as:
Composite Roofing Shingles
Smart Glass Windows
Bamboo Floors
Hemp Insulation
And much more!
For more information on the eco-friendly materials available, check out our previous blog!
How to make construction sustainable
Of course, the 7 principles of Sustainable Construction need to be considered when making your construction sustainable. This comes hand in hand with the planning and design process. Making sure to plan sustainable methods and materials from the beginning will make the process easier for you in the long run and help to keep your property sustainable for a long period of time.
As a rule of thumb, look into durability, energy efficiency, waste reduction, air quality, water and materials to help make the whole process as easy as possible. Not sure where to get started? We can help!
For more inspiration, check out our most recent blog on our favourite sustainable constructed builds!
Sustainable construction standards 2021
As the construction industry begins to move towards sustainable construction, there's standards and legislations to get familiar with. Here are a few examples:
Future Homes Standard
The Government has set out plans to improve the energy performance of new homes, with all homes to be highly energy efficient with low carbon heating and be zero carbon ready by 2025. All of these homes are expected to produce 75 – 80% lower carbon emissions compared to older builds. To make sure the industry is ready to meet these new standards by 2025, new homes will be expected to produce 31% lower carbon emissions from 2021. For more info, head over to Gov.co.uk.
Building Regulations: Part L
Part L of the building regulations refers to the conservation of fuel and power and exists to guarantee the eco-efficiency of properties built under UK law. With the aim for both newly-built and modified properties to meet the target CO2 emissions limit, Part L is in place to minimise carbon emissions as we work towards a greener future.
Net Zero 2050
In 2019, parliament passed legislation requiring the government to reduce the UK's net emissions of greenhouse gases by 100% by 2050. The Climate Change Act 2008 named the six major greenhouse gases as carbon dioxide, methane, nitrous oxide, hydrofluorocarbons, perfluorocarbons and sulfur hexafluoride. However, carbon dioxide makes up the bulk of these. For more information on the government's Net Zero target, click here.
New SAP 10 regulations
We cannot forget the good old SAP Regulation. To set the scene, a SAP calculation stands for Standard Assessment Procedure calculation. It measures the energy and environmental performance of your new dwelling and your assessment of the energy your new development is likely to consume.
However, in 2018, the Government announced that SAP 10 would be launching in 2019/2020. SAP 10 is an update on the methodology and testing procedures used to calculate energy use in new developments. Overall, the changes from SAP 2012 to SAP 10 will have an impact on the way we design our heating systems and insulate homes. It will also work to halve the CO2 emission factors for electricity.
To find out more about SAP 10 and the new regulations, take a look at our recent blog 'What are the changes to SAP 10 (and what will it mean for you)?'
Testing for sustainability in construction
So, how do we know whether a property is sustainable? There are multiple tests and procedures we do here at Buildpass to help produce the best plan going forward for your property.
Air Testing
Air tightness testing measures the amount of air that escapes through the gaps or building fabrics of buildings. Many owners get their dwellings tested for air tightness to reduce their environmental impact, save money on energy bills and decrease energy waste. Air tightness testing is now a part of the Building Regulations and all new builds (both domestic and non-domestic) must adhere to air tightness standards.
SAP Testing
The Standard Assessment Procedure (SAP) is how the Government assesses and compares the energy and environmental performance of different dwellings. SAP ratings are for anyone working on new residential developments, conversions and even some extensions and will be used to produce your Predicted Energy Assessment and Construction Energy Performance Certificate.
SBEMS
SBEM stands for Simplified Building Energy Model and is for any new commercial and non-domestic building. It measures the energy needed for heating, cooling, ventilation and lighting the building. It may also be needed for an existing building that is undergoing renovations or extensions.
BREEAM
BREEAM is pretty significant in the sustainability construction industry. The Building Research Establishment Environmental Assessment Method is the world's longest established method of assessing, rating and certifying the sustainability of a building. It's known as the international benchmark. It strives to minimise the negative impact that buildings can have on the local and global environment, with a specific focus on a building's life cycle.
LEED
Leadership in Energy and Environmental Design (LEED), is similar to the BRE's BREEAM Standards, but is mainly used as an assessment of green credentials for projects based in America. We occasionally get involved here in the UK, in particular projects in London, where American companies are looking to assess building new or refurbished retail units against the Standard. The scheme is maintained by U.S. Green Building Council (USGBC).
WELL Building Standards
The WELL Building Standards, delivered by the International Well Building Institute, is a set of performance standards for the design, operation and policies to help foster a culture of health and well being within the buildings and organisations. The guiding principles deliver a more thoughtful and intentional spaces that enhance human health and well-being. Backed by the latest scientific research.
Living Buildings
Living Buildings Challenge is an assessment methodology from the Living Futures Institute, it consists of seven petals covering, place, water energy, health, materials equity and beauty. The guiding principles are to create developments that are socially just, culturally rich, and ecologically restorative and moves away from the idea of doing less harm towards leaving a net positive impact.
Building with Nature
Building with Nature is a scheme supported by the Royal Society of Wildlife Trusts here in the UK. The programme focus on green infrastructure and master planning. Includes four key principles Core, Well being Water and Wildlife. At it heats it brings together best practice to promote high-quality green infrastructure at all stages of the development process including policy, planning, design, delivery, and long-term management and maintenance.
Working with a sustainability consultant
And there you have it! Sustainable Construction is taking the industry by fire and something you need to consider and implement into your next build development. We can help with your next development process from start to finish in areas such as planning, certification and much more. Ready to get started? Let's get you booked in for a call with one of our top sustainability consultants. Speak soon!
More from the Buildpass Sustainable Construction Blog