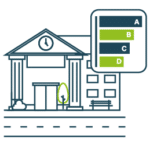 What is a Display Energy Certificate (DEC)?
Display Energy Certificates (DECs) show the energy performance of non domestic buildings based on their actual energy consumption. Essentially, this applies to any building that is owned by public authorities and/or visited by members of the public. Picture schools, leisure centres, hospitals… You get the drill.
A DEC rates a building according to its actual energy performance, matched up against previous benchmarks. You will be given an operational rating which will summarise your energy efficiency (on a scale from A to G).
Do I need a Display Energy Certificate?
You need a Display Energy Certificate if your building is over 250m2, occupied by public authorities and frequently visited by members of the public. It's a legal requirement, and your DEC needs to be displayed for members of the public to see. Failure to do so can result in a hefty fine (and let's face it, nobody wants that).
Examples of buildings that would require a DEC include:
Schools and universities
Leisure centres
Hospitals
Healthcare centres
Police stations, prisons and courts
Museums and art galleries
Do I need a DEC or an EPC?
This is a question that we're asked a lot, and so we wrote a full guide which you can read here. However, in a nutshell, both represent different information and purposes. A DEC shows the actual energy use of a building, whereas an EPC shows expected use and is necessary for renting or selling a property.
How is a Display Energy Certificate produced?
You need a qualified DEC assessor in order to produce a legally valid Display Energy Certificate. They will use a government approved / Calc Software (Operational Rating Software) to rate the efficiency of your building. Buildings graded A are the most efficient with energy performance while buildings graded E and below are seen to be less efficient.
We are qualified to access your building, calculate your operational rating and provide you with a valid Display Energy Certificate. We will then provide you with the advisory report and help you with the next steps on how to increase your operational ratings score.
Ready to start?
Book your free Consultation