Now that we have had the Summer Solstice, it's time to welcome in the warm summer months. But, when it comes to keeping your house cool sustainably, where do you begin?
Whether you're a sun worshipper or more of an English rose, a hot and stuffy house can be a bit of a nightmare. And as we officially move into the summer (coupled with some seriously hot days) the need to keep your house cool is becoming a bigger priority.
In the UK, it's something that is often overlooked by builders and designers. Is it really worth adding in all those extra design factors for a handful of hot days every year? What they are ignoring is the rapidly increasing global temperatures and heightened risk of more extreme events (something that has been well documented in recent months).
Cue a home so roasting you can't even enjoy a cup of tea, let alone get to sleep in the evening. Bet you wish you'd structured your home more consciously now, right?
The problem is, one of the most obvious ways to cool a home – air conditioning – is actually one of the most environmentally damaging; albeit they have made huge progress in the last few years and show much better efficiencies and less harmful coolant. As a result, Passivhaus principles suggest reducing cooling demands as much as possible and only using air conditioning in extreme heat events. Which leads us to explore more eco-aware methods on how to keep your house cool during a heatwave.
The good news? There's plenty.
How to keep your house cool without air conditioning.
Your first step should be identifying which rooms are likely to soak up the most heat – aka, those that face the sun. An easy way to minimise the temperature in those rooms is to avoid windows on east and west elevations. Whilst it may seem counterintuitive, windows on the south elevation are not so much of an issue because we can utilise shading far better (such as overhangs to avoid the worst of the midday sun) In contrast, when the sun is lower in the sky on the east and west side it is incredibly difficult to shade.
However, you should enlist your cooling solutions throughout the entire home. When considering your windows, look at the G-Value (or the Solar Transmittance). Essentially this is a measure of the solar energy transmittance of your windows and is a good way to alter the temperature throughout your home, room to room.
Reflective light facades can also be used to bounce heat away from your home – covering a wall with this can keep away from merging into your interior setting. In addition, you can keep heat even further at bay by using overhangs or bris soleil – these keep the sun out in the summer but welcome it in during the winter.
For something more flexible, an addition as simple as a shutter or external blind can provide further cooling, and will allow for ventilation, securing and shading. External shutters are common on the European continent, and yet they have not yet become a traditional tool in the UK. This is despite external blinds being considerably better than internal blinds at stopping the heat entering the home, as well as reducing internal temperatures.
The National Lourves Company have specialise in providing solutions to combat summer solar gains. "We have installed lots of brise soleil on Natural ventilation projects in the past as they both work hand in hand."
"Normally if the room is anything but north facing the natural vent systems struggle to overcome solar gain, therefore as the brise soleil can reduce the heat loadings from solar gain by as much as 85% the brise soleil enables the Natural vent system to work a lot more efficiently." You can view more of their shading solution's at www.nlc-louvres.co.uk.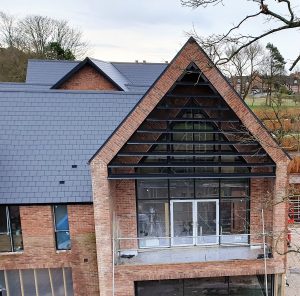 Don't forget, it is best to keep the windows shut when external temperatures are high, as the air in the home is likely to be cooler. Only open the windows when the external air temperature has dropped, for example in the evening. This is where mechanical ventilation can play an integral part by offering purge ventilation cooling the home during the night.
Step outside the home and planting deciduous trees can have an enormous impact, providing shade and reducing peak temperatures by a considerable amount. Plant them on the east, south and west sides to get the best effect.
Green roofs also have huge benefits when it comes to reducing summer overheating by absorbing CO2 and can help reduce the heat island effect in high dense urban areas. Plus, you can tick another green box knowing you're welcoming wildlife into a new habitat!
You can take your cooling solution a step further with a reversible heat pump.
A reversible heat pump works in both directions – it can provide heating or cooling to an internal space.
They work through the use of a reversing valve which reverses the flow of refrigerant from the compressor and then into a condenser and evaporator coils. In the summer (heating mode) the outdoor coil is an evaporator and the indoor one is a condenser.
Basically? It does all the hard work for you and will prime your home at the perfect temperature.
It is also possible to use the ground to passively cool the building either using a ground source heat pump or running ventilation ducting through the ground prior to entering the building. The ground will be much cooler than the summer air and ground temperatures are likely to be around 10oC throughout the seasons, providing heating in the winter and cooling in the summer.
Remember: there are endless ways to tweak and evolve your home design to fit in with the changing seasons. What works for one build won't work as well for another, and so you can save yourself a huge deal of time and money by bringing in an expert to guide your decision making process.
Which is where we come in. We are experts in energy efficient homes – and we would love to help you. Get in touch with a member of our team for a no obligations chat and find out more about our expertise.
More from the Buildpass Sustainable Construction Blog