We're pleased to welcome another addition to the Buildpass Guest Post Series. Today we're speaking to A.Proctor Group about Spacetherm® WRB and how it can drive energy efficiency.
What: Energy Efficiency.
One of the biggest boxes on any conversion or refurbishment project's checklist is an improvement to the overall energy performance of the building.
Efforts to help bring a project up to modern efficiency standards will almost certainly involve new thermal insulation. This will usually mean adding insulation to previously un-insulated areas of the building &/or the replacement of inefficient insulating materials with modern equivalents.
Where: Window Reveals
So, how can we do this? A key area where improved insulation levels will have an instant effect on energy efficiency, as well as the internal comfort of residents, is at window reveals. This is particularly true in older buildings where the original windows may need to be retained.
A combination of traditional construction methods and poor workmanship can mean sufficient levels of insulation were not included around the window frame at the time of construction. Gaps in the frame and areas of cold bridging contribute to making window openings cold, draughty and prone to the effects of condensation including mold and mildew growth. Poor-performing window reveals that are not remediated at the same time as the rest of the refurbishment will only serve to undermine other efforts to improve energy efficiency.
While restrictive window openings and preserved historical features can make improving the insulation level in these areas a challenge, the percentage of total heat loss from buildings originating from gaps in the envelope including at window reveals is estimated to be 40%, so attention to detail will pay dividends in the long run.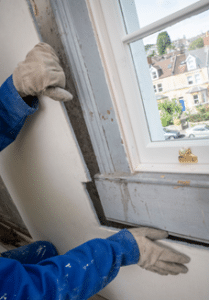 What: The Right Insulation Product
You know the problem – how do you fix it?
Insulation products that are designed for window reveals are generally more expensive because of their thermal performance – in order to fit in the tight spaces of window openings, not disturb decorative window features, and still meet modern U-value requirements, window reveal insulation must be as high-performing as possible in order to be as thin as possible.
Contractors and homeowners can justify this investment by sourcing quality insulation products that are third-party tested and accredited. As well, they can find peace of mind by enlisting the help of qualified technical advisors who can troubleshoot design issues before construction even begins.
The product: Spacetherm® WRB
Spacetherm® WRB (window reveal board) is a high-performance laminate specifically designed to be fixed or glued to the existing solid wall at the window reveals. Spacetherm WRB consists of Spacetherm aerogel insulation blanket bonded to plasterboard or magnesium oxide board, with or without plywood reinforcement depending on fixings. It is ideal for use in applications where low U-values are required but space is limited.
Contact the A. Proctor Group for advice on Spacetherm® solutions and expert technical support.
A huge thank you to A. Proctor Group for your guest post. If you would like to submit your own article for the Buildpass Guest Post Series, please drop us a line. We'd love to hear from you!

More from the Buildpass Sustainable Construction Blog